| | | |
| --- | --- | --- |
| | The Experiences Sharing of The Study Tour 2019 | |

| | | |
| --- | --- | --- |
| | The Experiences Sharing of The Study Tour 2019 | |
The Experiences Sharing of The Study Tour 2019
Name

Hong Yu

Major

Economy and Finance

Self introduction.

I am a lively, cheerful, optimistic and progressive person. I am conscientious and responsible in my work. I am good at communicating and coordinating. I have strong organizational ability and team spirit. I like reading and traveling.
Sunday July 13, 2019 Sunny
On July thirteenth, with great expectation and trepidation, seven of us gathered with Mr. Wang Shuo at Pudong Airport, checked our baggage and cleaned up the goods at the airport duty-free shop. Then we boarded flight UA836 and flew to Chicago to start our study tour.
After 14 hours of flight, we were exhausted. At the entry point of O'Hare Airport, there were long queues of passengers. After about one and a half hours of waiting, we finally got out of customs smoothly, took our baggage, took the bus and went to the final destination, the University of Northern Iowa.
The first impression of the United States is that the infrastructure there is old. Although O'Hare Airport has five terminal buildings and carries more passengers than Shanghai Pudong Airport, Pudong Airport is no inferior or even better in terms of design and facilities.It takes about five hours to get from Chicago to Cedar Fowles. Because of the exhaustion of the journey, I wake up and fall asleep all the way. I see the beautiful single villas scattered by the roadside. There are lots of neatly mowed lawns and white fences around the house, which are similar to what I saw in the movie.
Monday July 15, 2019 Sunny
The next day after arriving in the United States, after the rest of the previous night, the fatigue of the journey gradually faded. Looking around, we stayed in a student apartment with good conditions. In each suite, there were four separate rooms, two bathrooms, a kitchen with dishwashers, ovens, microwave ovens and four stoves, and a spacious living room with sofas and wooden chairs. The whole room was covered with carpets, comfortable and soft under foot. There is also a vacuum cleaner in the closet, which considers the cleaning of the carpet intimately.In the afternoon, we went to Target Supermarket and bought some daily necessities, food and so on by yellow school bus. The supermarkets in the United States are not very different from those in China. The varieties of vegetables are relatively few. The counter area for meat is very large, and there are different kinds of cheese. After the first wave of U.S. dollar trading, we returned to full capacity. Generally speaking, the price of the United States is not high, and converting into RMB is also a reasonable price. It's just that the store is far away from the school. We can't walk there. We can only take the school bus and buy together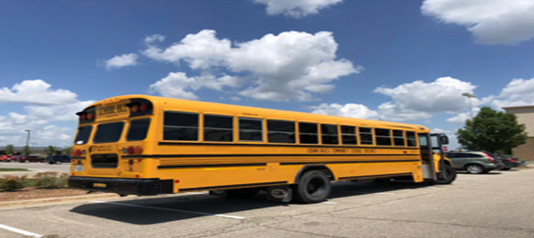 .
Wednesday July

17

,2019 Sunny
On Wednesday morning, Dr. Russell Guay still teaches us. Today's course is not only theoretical, but also simulated business negotiation. When we were negotiating, we had a discussion first. Then make plans to deal with possible situations. In order to reach an agreement with another company, we adopt a positive attitude and adopt different strategies in order to establish a long-term cooperative relationship. In my opinion, when we negotiate, we should be well prepared, so that we are more likely to establish business cooperation. For example, we should know our customers and their background, business habits and personal hobbies to please them. It is very important to please customers in business negotiations, and how to deal with the inevitable tensions in negotiations is also very necessary.
In addition, pay attention to the customer's intentions. As the saying goes: the plan hasn't changed very quickly. Although you think you are well prepared, there are still some people who ask questions from unexpected angles and are caught off guard. If you encounter such a problem at the negotiating table, you need to remember a simple rule: what matters is not the question itself, but the intention of the questioner and the subtext of the client. As long as you can understand the customer's intentions, screen the customer's subtexts, and express the customer's thoughts or doubts, you will be half successful. If your answer is what the customer wants, or if you can solve the problem for him and bring him the benefits he wants, then the upcoming conversation will go smoothly!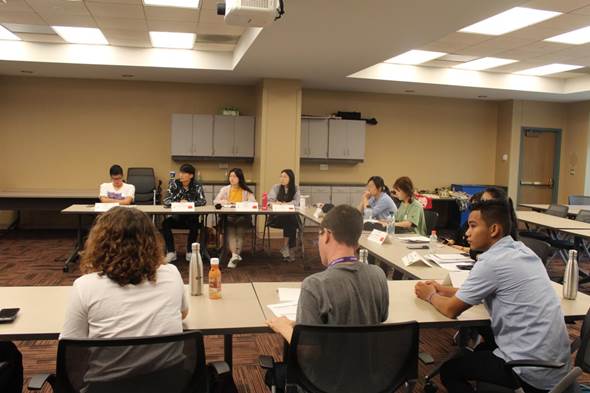 Monday July 22, 2019 Sunny
The second week of coming to the United States, Monday. In the morning, Teacher Chris told us about the course of cultural values and norms. In the course of learning, I learned that people of different cultures choose different ways and methods to deal with things. The reason for this phenomenon is the difference of cultural values and norms. When dealing with cross-cultural events, we should pay attention to respecting the cultural background of others.
In the afternoon, we went to the local food bank to volunteer. The food bank serves the unemployed and unemployed local people, giving them free food and drinks. Our job is to assist the staff to check the quality of apples and packaged food together. Hours of service are tiring, but it is worth the effort to think that many people will be helped through their difficult times.
In the evening, our group went to watch the local baseball game. Baseball is a popular sport in China, but in the United States, it is a popular popular sport. It's very happy to watch a real baseball game with Hamburg Coke.
Friday July 26, 2019 Sunny
On Friday, the time came for me to speak with Nicaraguan classmate Kelvin on PPT, our PPT theme is about the sustainable use of water resources - clean drinking water and water for all is an important part of the world we want to live in. There is enough fresh water on earth to make this dream come true. However, due to the economic downturn or obsolete infrastructure, millions of people, most of them children, die every year from insufficient water supply, sanitation and hygiene-related diseases.
Lack of water resources, poor water quality and inadequate sanitation also have a negative impact on food security, livelihood choices and educational opportunities for poor families around the world. Drought has plagued some of the world's poorest countries, worsening hunger and malnutrition. More than 2 billion people are currently at risk of reducing available freshwater resources, and by 2050 at least a quarter of them may be living in countries affected by cyclical or recurrent shortages of freshwater. Drought has plagued some of the world's poorest countries, worsening hunger and malnutrition.
Fortunately, in the past decade, tremendous progress has been made in clean drinking water and sanitation, and more than 90 per cent of the world's population now has access to improved drinking water sources. Improving sanitation and drinking water supply requires increased investment at the local level in sub-Saharan Africa, Central Asia, South Asia, East Asia and some developing countries in South-East Asia to strengthen the management of local freshwater ecosystems and sanitation facilities.
In the afternoon, we went out by school bus to Hussein Dairy, visited the production and processing of milk and dairy products, experienced the process of butter production, and tasted fresh and delicious ice cream.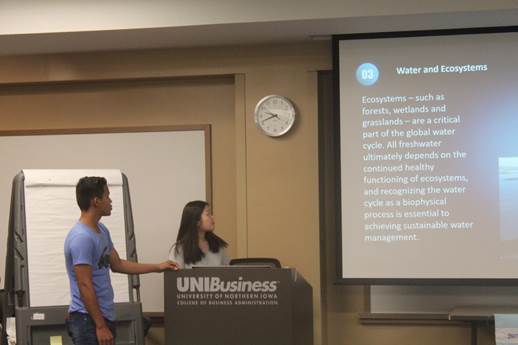 Name

Yuhan Zhou

Major

logistics management

Self introduction.

I am open-minded and sincere, conscientious and responsible, active and innovative, and have strong organizational ability and team spirit. I am the president of the Student Union of Shanghai Dianji University.
Wednesday July 17, 2019 Sunny
Today, Dr. Russell Guay teaches us about international business negotiation.First of all, he asked us some questions, let us think more about the issue of negotiating power.For example, have you participated in the negotiations? What do you think of when you mention negotiations? Do you think you have good bargaining power?
I don't think culture and negotiation can be separated. The two are mutually influential.Culture not only affects the way negotiators negotiate, but cultural inconsistencies between the two parties also affect the process and final outcome of the negotiations.In cross-cultural negotiations, because the subject of negotiation belongs to two or more countries or regions, the language, beliefs, living habits, moral standards and even the psychology of negotiation are greatly different.These aspects are all important factors influencing the negotiation.When the two sides negotiated across cultures, both sides put their own culture on the negotiating table.In this process, culture often influences people's negotiating attitudes and negotiating behavior in a subtle way.
In the afternoon, the course group visited the Kryton Metals parts factory and the John Deere tractor museum. Although the semi-automatic production line still has a gap with China's production capacity, it is believed to be getting better and better in the future.In the tractor pavilion, we saw production tools from different eras.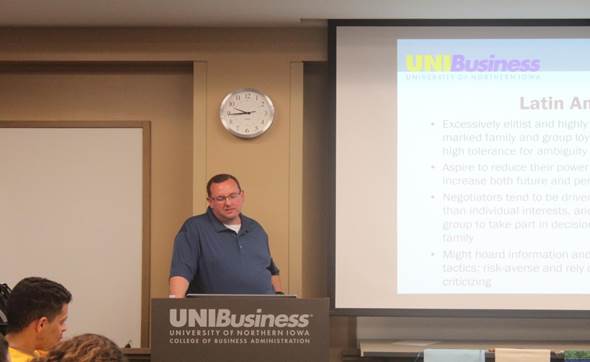 Friday July 19, 2019 Sunny
Today, Dr. Nick Guay tells us about the different forms of capitalism.
Capitalism, as a national ideology, includes political, economic, and cultural aspects.The highly developed commodity economy and competition laws of capitalism promote the rapid development of productive forces.Capitalist socialized large-scale production has opened the way for the creation of new productive forces and the widespread application of natural forces and science and technology.Adapt to and promote the rapid development and improvement of scientific labor organizations and management systems for the rapid development of social productive forces.The form of capitalist exploitation is more conducive to the development of productivity.The microeconomic and macroeconomic adjustment mechanisms inherent in the capitalist economic system promote the social production.
The existence of contemporary capitalism conforms to the law of social development, and it will promote the development of social productivity in the long run.At the same time, no system is isolated. In the long-term development, the development of the capitalist system and the socialist system is inextricably linked, competing with each other and learning from each other. This contradictory movement has promoted the progress of the whole world.But despite this, we cannot ignore the fixed drawbacks of the capitalist system. The development of the financial crisis in 2008 and its entire process can fully reflect the insurmountable shortcomings of contemporary capitalism.
In the afternoon, the course group visited the processing center of Target, the third largest market in North America. The large cargo pipeline runs through the third floor. I just completed the comprehensive experiment of logistics management and further understood the connotation of theoretical knowledge in practice。
Tuesday July 23, 2019 Sunny
Brazilian students brought us a Brazilian cultural experience.The last student from Brazil showed us exotic cultures such as Brazilian clothing, food, and dance.Taste Brazilian specialties and enjoy the Brazilian samba dance, and everyone is actively involved.In the grab stool game organized by Brazilian classmates, Zhou Jiaxuan from China won a gift prepared by Brazilian students.
By directly participating in the cultural experience, I feel that Brazil is a passionate country.Through interactive cultural exchanges, we also gained friendship across nationality.
Through this cultural experience, we deeply feel the collision and integration of culture, and we deeply understand that the development of culture needs to be accumulated and precipitated from generation to generation. The Chinese nation must not only carry forward its fine traditional culture, but also embrace foreign culture.Only in this way can the Chinese nation shine in the torrent of history.
Monday July 22, 2019 Sunny
On July 22nd, Chris brought us courses on cultural values and standards.First of all, Chris allows students from different countries and different nationalities to write down the values and ethical standards of each country on the blackboard and introduce them.
According to China's laws and regulations, ethical guidelines, and customs, I have listed relatively important aspects and compared them with the current situation in the United States, telling everyone why this is the case in China.
As a spiritual force, culture can be transformed into material power and have a profound impact on social development.Affecting the development path of different nationalities and countries with different characteristics, advanced culture has a positive role in promoting social development.The source of cultural influence on people comes from a specific cultural environment and various forms of cultural activities.Culture affects people's communication behaviors and ways of communication, affecting people's practical activities, cognitive activities and ways of thinking. It has the characteristics of subtle and far-reaching.
In the afternoon, the group went to the Iowa Food Bank and volunteered.The fruits and dry food provided by the supermarket can be repackaged for the refugees to solve the food crisis, and the students are also happy in the work.Then, everyone went to watch the baseball game in Waterloo.
Tuesday July 30, 2019 Sunny
On the morning of July 30, we arrived in Des Moines, Iowa's capital, and visited the World Food Prize winners' hall.The award was given to former Chinese Minister of Agriculture He Kang and the father of hybrid rice Yuan Longping.When we saw pictures of two people hanging on the wall, we were full of national pride.What impressed us is that the thin face afflicted by hunger makes us feel heavy and can't help but cherish food more and more.
In the afternoon, we visited Kemin, a global leader in the production of nutraceutical ingredients.We are surprised by the company's business philosophy to R&D and production details.This visit will also help us better combine theory with practice and lay a solid foundation for our future to go to society.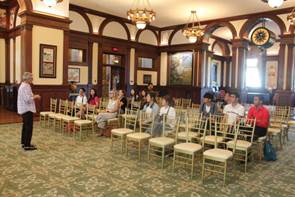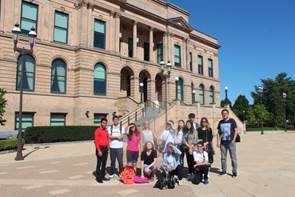 Name

Tingjun Zhu

Major

Economy and Finance

Self introduction.

I am an active and open-minded person. I am conscientious and responsible in my work and dare to innovate. I like watching TV and listening to music in my daily life. The specialties are zither and Latin dance.
M
onday
July, 15 2019 Sunny
After a day, everyone seems to have adapted to the school life. This morning, a group of people with a small umbrella, breathing the smell of green grass on the campus, embarked on the journey of browsing the campus. We started from the dormitory, and first went to the teaching building near the dormitory to gather, the teaching building is clean and bright, beside the table tennis. The table attracted our attention. As China's national ball, how can we not come here? Laughter and laughter spread, and a tense and exciting table tennis match began. Shortly afterwards, we met two local students. Under their leadership, we began to visit the campus. It is known that the University of Northern Iowa is a top-ranking public university in the United States. The first batch of Sino-American degree recognition universities of the Ministry of Education of China. American public Ivy League institutions, the International Business School AACSB certification of one of the earliest accreditation institutions. There are many kinds of majors, which can meet the needs of most students. There are more than 14,000 students in the school, which was founded in 1876. Located in the west of the metro area in northeastern Iowa, it offers world-class education and has unique teaching experience. The University of Northern Iowa has been established for more than 100 years. To maintain this accreditation, it is not easy to achieve a strict control mechanism, including dozens of strict evaluation criteria, such as teachers, teaching, environment, graduates, academics and so on. The school has a rich history, culture and many celebrities. Many diplomats and important positions in the US embassy, Senate and House of Representatives are graduated from the University of Northern Iowa.
First we went to the sports center, basketball hall, rugby hall, gymnasium, rock climbing hall. We deeply experienced the colorful sports life of local students. Next, we went to the student activity center, the library, the bell tower and other places. The ancient architectural style and modern educational facilities complemented each other, which set off the campus life with profound culture but keeping pace with the times.
In the afternoon, Chris based on our respective cultural intelligence assessment reports, so that we can better understand their strengths and weaknesses, so as to develop the direction of efforts to achieve more accurate and fluent exchanges with people of different cultures in different countries. Through this study, we found our own shortcomings, in order to better meet and continue this exchange of learning activities, each of us is more active in learning, and more foreign students to talk, and constantly improve ourselves
.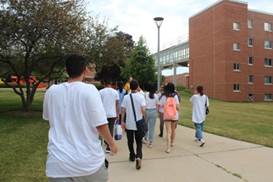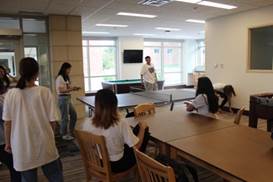 Thursday July, 18 2019 Sunny
Today, Professor NICK GUAY tells us about the cultural and communication differences between high-context and low-context regions. Literally speaking, low context culture refers to those cultures that express ideas in direct language. On the contrary, high context culture hides a lot of things behind their speeches. You have to think about it more. People have a high background of multi-color time system culture. They see time as the composition of a point. So for a while, they usually do several things at the same time. They think the results are important, but not the process. Whether you focus on the process or not, as long as the results are satisfactory. When it comes to low-context culture, things are quite different. People regard time as a straight line. A person can only concentrate on one thing for a period of time. They have detailed timetables for what they will do, and they are usually very efficient.
Friday
July, 19 2019 Sunny
Today is the fourth day of study here. In the morning, we study with the teacher. Through today's course, we understand and understand the complementarity of various capitalist systems. By comparing the United States and the United Kingdom, the teacher made us understand the difference between LME and CME more clearly.
There is basically no proletariat in the United States. Capital or means of production have reached a considerable degree of public ownership. There are very rich people in America. However, the gap between rich and poor measured by Gini coefficient is less than that of China, that is, 0.5, and that of the United States is 0.469. Seventy percent of China's social wealth is owned by 0.4 percent of the population, a much smaller difference in the United States. Social contradictions and demonstrations sometimes occur in American society, but they can be solved by congressional voting and people's general election. Therefore, we should call it American capitalism with American characteristics.
For Japan, capitalism has also gone through the stages of free capitalism and monopoly capitalism. So far, Japan's economy is still an important part of the three-legged capitalist economy. Japan is unwilling to become an economic power and is moving towards the status of a political power. The development history of Japanese capitalism is a revival history of one hundred years.
In China, I think there are three new characteristics of China's economy in this new era. The first is the super-large-scale real economy and excess savings. The second feature is the large reversal of relative cost of factors. The third feature is the high-end and diversified demand of the country.
To sum up, there are great differences among different capitalist countries, and each country should develop and strive to adapt to the world.
In the afternoon, we visited the processing center of TARGET, the third market in North America. The process of logistics transmission is shown in our eyes. We saw many assembly lines completed by the division of labor between man and machine, carrying one package by one onto different tracks
.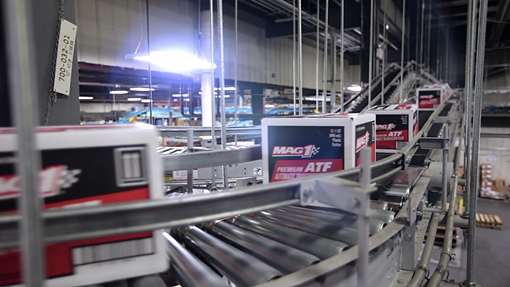 Tuesday
July, 23 2019 Sunny
In the morning of July 23, 2019, we continued to discuss the cultural differences between different countries. In the afternoon, Brazilian students introduced their country's basic situation, clothing, food and dancing. During the introduction, we tasted Brazilian food together. Brazilian students taught us how to dance in the local dance. I feel Ba. Westerners are enthusiastic and unrestrained. The most intense is the game of grabbing a stool at last. Everyone follows the music and tenses his nerves. Finally, the students of our country won the final victory. The Brazilian students gave him a special gift as a reward. In today's exchanges, we have gained friendship across nationalities.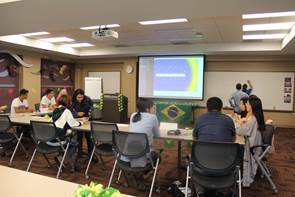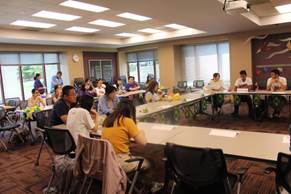 Thursday
July, 25 2019 Sunny
Today, we have launched a group of speeches on Sustainable development. Sustainable development is a kind of development with equal opportunities and benefits. It includes not only the balanced development between regions within the same generation, that is, the development of one region should not be at the expense of harming the development of other regions, but also the balanced development between generations, that is, to meet the needs of contemporary people without harming the development ability of future generations. The principle holds that all generations of human beings are in the same living space. They have the same right to enjoy the natural resources and social wealth in this space. They should have the same right to live. Therefore, poverty eradication has been raised as an important issue in sustainable development, and priority should be given to it. People in all countries, regions and generations should be given equal rights to development.
In the afternoon, cultural activities were held in Nicaragua. We know that it is a Republican country, located in central Central America. Lake Nicaragua is the largest lake in Central America and its capital is Managua. Of the population, 69% are of mixed Indo-European race. The official language is Spanish. The majority of the inhabitants are Catholic.
Thursday
Aaugust, 1 2019 Sunny
Today, together with my Nicaraguan classmates, I spoke about the fifteenth goal of sustainable development, terrestrial life. Forests account for 30.7% of the earth's surface. Their role is not only to ensure food security and provide protection, but also to combat climate change and protect biodiversity. At the same time, they are also home to aborigines. By protecting forests, we can strengthen natural resource management and improve land productivity.
At present, the forest area is reduced by 13 million hectares per year, while the continuous degradation of dryland leads to desertification of 3.6 million hectares. Although 15 per cent of the land is currently protected, biodiversity is still threatened. Deforestation and desertification caused by human activities and climate change pose major challenges to sustainable development and affect the lives and livelihoods of millions of people struggling against poverty.
We hope that every country will take an active part in sustainable development and make our home a better place to live.
Name

Jiaqi Zhou

Major

industrial engineering

Self introduction.

I am an enthusiastic and open-minded person who also love to try new things and pursue challenges and experience different cultural backgrounds. I participated in all kinds of activities during my stay in school. As a member of the Ministry of Foreign Exchange, I received Swedish exchange delegation visiting our school.
Monday July 15, 2019 Sunny
Finally, it's the working day, which means we have to officially start our busy courses. Before the formal class began, we were guided by local students to visit the campus. This is a fairly large and well-equipped university. It has not only a library equipped with computers, a beautiful teaching building, a variety of dining halls, but also swimming pools, rock climbing walls and other sports venues in the sports management. Students can truly achieve the all-round development of morality, intelligence, physical fitness and beauty.
In the afternoon, we finally entered the classroom. The course was attended by 11 students, including Brazilian classmates Davi, Akemi, Luisa from South America, one Nicaraguan classmate Kelvin from Central America and seven of us from China. In class, Teacher Chris arranges us to introduce ourselves and get to know each other. At the same time, he also informs us of the arrangements for the next few weeks. With excitement, I look forward to the next days in UNI.
Wednesday July 24, 2019 Sunny
Wednesday, a special day. To tell you the truth, before I came here, I learned that there was some anxiety about the need for exams in this summer project. But when it really came to this day, this morning, when I walked into the examination room with a relaxed and confident mood, facing all the English papers, I was a little excited. Finally, I have a chance to
test my learning results.
In fact, Wednesday is a special day, not because of the exam. But this afternoon is a Chinese cultural activity prepared and organized by ourselves. In the process of preparing for this cultural event, seven of us made our own efforts. Suggestions have been made, some people want to play games, some organize games, and others prepare PPT speeches. We have a clear division of labour and are united. For my part, I am very happy to have the opportunity to show you the history, achievements and advantages of Chinese sports through PPT speeches in front of friends from all over the world. Of course, in addition to the speech and game links, the final tasting of Chinese cuisine is equally exciting and can not be missed. The delicacy of dumplings and fried rice, accompanied by the different language of China's rising and falling praise, directly pushed the whole cultural activities to a climax.
Friday July 26, 2019 Sunny
Today we have the opportunity to visit Hansen's Dairy Factory. This is the first time that I really entered a modern dairy factory. We first visited the cows raised in the factory. The cows, big and small, were placed in different shelters. They all wore special brands on their bodies. When we came closer, we could find the names of each cow. After visiting the cows, we went inside the factory again. Inside the factory is a complete set of milking machines and equipment. According to the staff, when milking is needed, cows are driven into a specific area where they first need to line up for bathing and then milk on the machine. Cows love bathing in hot summer, so milking is their happiest time.
After visiting the factory, we were able to make butter and eat it by ourselves, and then we tasted the factory's special ice cream of various flavors.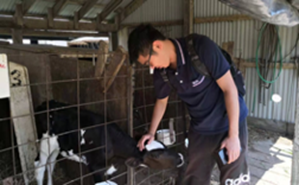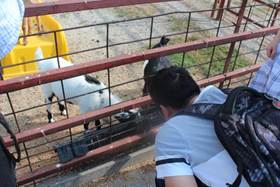 Saturday July 27, 2019 Sunny
Today, we visited the local tractor museum. Tractors have a special complex in the United States, and in museums, we can easily find the deep historical footprints of tractors to Iowa, an agricultural continent. There are many kinds of exhibitions in the museum. There are historic and modern tractors, small family tractors and large construction tractors for factories. In addition, there are also many small recreational experience facilities, such as tractor remote control vehicle, tractor building blocks, so that we can learn and understand the history and culture of tractors belonging to the United States in a relaxed and pleasant atmosphere.
In the evening, we were arranged to study ballroom dancing. As a college student who has never been exposed to dance, it is a new experience for me to have the opportunity to learn western communicative dance. After hours of study and practice, my movements gradually became proficient from the initial uncoordinated hands and feet. And I slowly became more comfortable from the beginning
.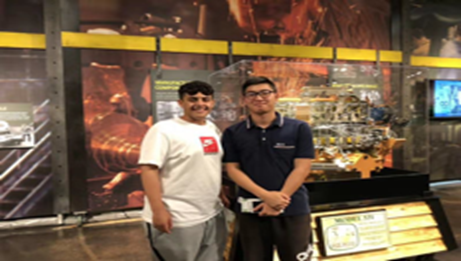 Mondayday July 29, 2019 Sunny
Monday, a different day. Instead of continuing to visit factories or museums, we went to an art gallery to experience. Our task is to create on a white three-dimensional drawing board called Peace Pole, and the content of the creation is fully free to play. As a person without professional painting training, I was really excited to use professional painting tools for the first time and create freely according to a specific process. At first, conservatively, I searched the Internet for more than a dream pattern to paint. The process of painting is also exquisite. First, draw the outline with pencil, then use fine brush, thick brush, brush with color, and then use marker to outline the border. After that, they are dried with a hairdryer. When I finished the first design, I began to have some courage to try more difficult and abstract works. And after some creation, I finally completed my Peace Pole.
Tuesday July 30, 2019 Sunny
In the next few days, we continued to study various factory visits and courses, and completed the final exam on August 2. After finishing school, we said goodbye to our foreign friends and left Iowa for Chicago. The trip ended on August 6 and returned to China. My final grade is fairly ideal - 88 points, but compared with the results, this period in the United States of nearly a month is my greatest harvest. Here, I not only learned knowledge, experienced beautiful scenery, delicious food, but also harvested friendship across national boundaries. Before leaving, we added Wechat to each other with our foreign partners - yes, Wechat. This enables our friendship to continue. When we learn to chat with each other in English, talk in class and play werewolf killing together, they also try to study the difference between Baidu and Google, try to make Chinese food, try to download Wechat and use Wechat. Look, here is the charm of cultural exchange.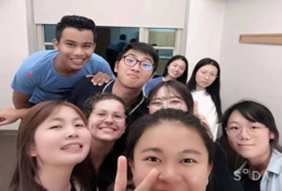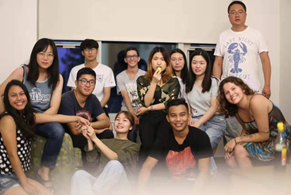 Name

Jingya Bao

Major

International Economy and Trade

Self introduction.

I am a low-temperature enthusiast of debate, sports, music and learning. I am good at talking and doing nothing. I have a wide range of interests and many friends.
Monday July 15, 2019 Sunny
On July 15, we played table tennis together in the morning and visited the campus, activity center, basketball hall, rugby tube, gymnasium, rock climbing hall, swimming hall, ancient buildings and library. The University of Northern Iowa is a state-sponsored university that can award more than 120 degrees across business management, pedagogy, anthropology, fine arts, natural sciences, sociology, behavioral sciences and many other professional fields. In addition, the University of Northern Iowa has graduate schools. The University of Northern Iowa enrolled 12,609 students in 2007, including 1,110 undergraduates and 1,599 graduate students. Ninety-two percent of these students come from the Iowa region of the United States. The University of Northern Iowa has long been ranked by Princeton Review as the best university in the 351 best universities in the Midwest of the United States. It has also been ranked as one of the ten best comprehensive universities in the Midwest of the United States by American News and World Report for eleven consecutive years. The University of Northern Iowa's accounting major has been ranked one of the top ten most popular universities in the United States. The CPA exams of students in the university are passed once. In addition, the Department of Economics at the University of Northern Iowa has been rated as the most outstanding department in the past decade.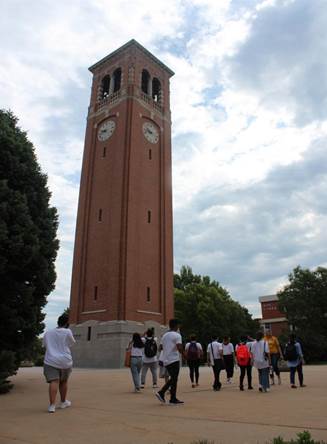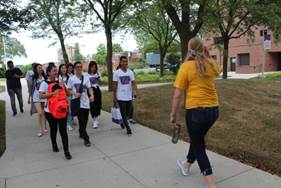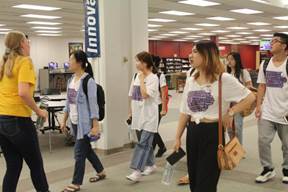 Thursday July 18, 2019 Sunny
On the morning of July 18, I studied the cultural background, and in the afternoon I had cultural exchanges with my classmates from Iran, Saudi Arabia and China.
Iran, located in West Asia, is a Middle East country. It borders Pakistan and Afghanistan to the east, Turkmenistan to the north, Azerbaijani and Armenia to the north, Turkey and Iraq to the west. The north-central part is close to the Caspian Sea, the Persian Gulf and the Arabian Sea to the south. It covers an area of 164,8195 square kilometers, ranking eighteenth in the world.
Iran is an ancient civilization. In 550 B.C., the Persian Empire, the first empire in world history, was established, which spanned the three continents of Europe, Asia and Africa. The Sabbath Empire was founded in 247 B.C. and was invaded successively by different ethnic groups in the 7th century. In the early 18th century, Nadirsha overthrew the foreign rule and established the Afshar dynasty. Since the late 19th century, British and Russian forces have been invading. The Balevi Dynasty was founded in 1925. The Republic was founded in 1979. The system of integration of politics and religion should be implemented.
Iran is a founding member of the United Nations and a member of the Non-Aligned Movement (OIC) and the Organization of Petroleum Exporting Countries (OPEC).
Iran is one of the major economies in Asia with strong economic strength. Iran's economy is dominated by petroleum exploitation. It is a major oil and gas country in the world. It is located in the Middle East, where oil and gas are the most abundant in the world. Oil export is the lifeblood of the economy. Its oil production capacity and oil export volume are the fourth and second largest in the world, respectively. It is a member of the Organization of Petroleum Exporting Countries. Iran has developed petrochemical, steel and automotive industries, as well as electronics, nuclear and computer hardware and software industries.
Saudi Arabia is called the Kingdom of Saudi Arabia for short. Located in the southwest of Asia, the Arabian Peninsula is bordered by the Persian Gulf in the East and the Red Sea in the west. It is bordered by Jordan, Iraq, Kuwait and the United Arab Emirates. Because its oil reserves and production rank first in the world, it is one of the richest countries in the world.
Saudi Arabia has a sound financial system and a relatively developed tourism industry. The Saudi government encourages the development of the private economy to reduce the dependence of the national economy on oil exports and to provide more employment opportunities for the rapidly growing population.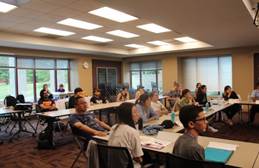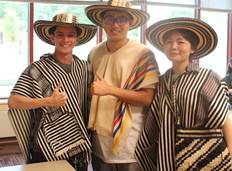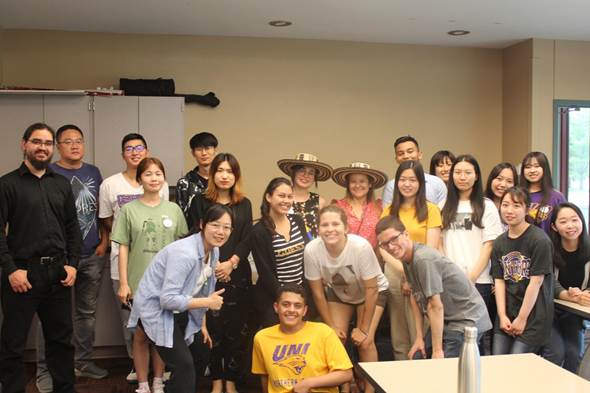 Monday July 22, 2019 Sunny
July 22. Learn about cultural values and standards in the morning and volunteer at the North Iowa Food Bank in the afternoon.
Food Bank is a charitable organization specializing in helping the local poor and distributing food. In addition to receiving food and financial donations from enterprises and individuals, it can also purchase seasonal unsalable agricultural products (vegetables, fruits, etc.) of vegetable growers at cost price, and make compulsory unification of the surplus critical food and expired food of supermarkets. Collection and classification. For fresh foods with almost the same shelf life and shelf life, such as cooked food, dairy products, bread, ready-made pastries, etc., they are destroyed uniformly; for sealed dry goods whose shelf life is much longer than the shelf life, they are collected by the Food Bank and distributed to members free of charge. Members of food banks can mainly target the urban migrant workers, children of migrant workers, students from poverty-stricken areas who are not covered by the basic social security system. Food Bank should not include local residents, otherwise it may seriously damage the food market order. Food Bank can impose certain behavioral constraints on membership, such as not having illegal records while working and living in the local area.
Waterloo Buck Baseball Evening
Tuesday July 23, 2019 Sunny
On July 23, I studied cultural studies in the morning and Brazilian cultural activities in the afternoon.
Brazil is the largest country in South America, one of the BRICS countries, a member of the Association of South American States, one of the founders of the Rio Group, a member of the Common Market of the South, a member of the Group of 20 and an observer of the Non-Aligned Movement. It has the reputation of the Kingdom of Football.
Brazil borders Uruguay, Argentina, Paraguay, Bolivia, Peru, Colombia, Venezuela, Guyana, Suriname and French Guiana, with a total land area of 8.5149 million square kilometers, ranking fifth in the world; 26 states and one federal region (Federal District of Brasilia), with a total population of 201 million.
Name

Ruhui Sheng

Major

International Economy and Trade

Self introduction.

I am an optimistic girl.I like music,movie and running.

My favorite subject is math.
Saturday July 13, 2019 Sunny
After 13 hours of flight and 5 hours of bus, I finally arrived here thousands of miles away. Sitting next to Mr. Wang on the plane, he told me some of his experiences of going abroad, and I was full of expectations for this trip. It's midnight at school. As soon as we got to the entrance of the room, we saw three Brazilian friends and one Saudi Arabian friend. They were telling stories all the way through the door of the room. We were also attracted by them. Pack up your luggage and get a good sleep with all your fatigue
.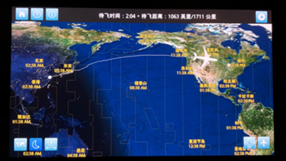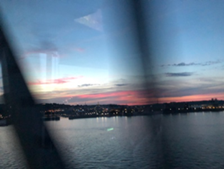 Monday July 15, 2019 Sunny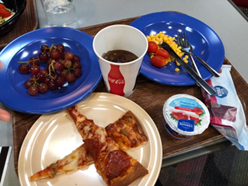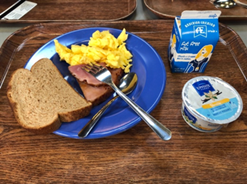 The food we have eaten these days is like the one shown in the picture. At first, we feel that we have finally got rid of rice. As a result, after eating authentic American food for several days, we all miss the food of our hometown, the white rice and the red hot pot very much. Play volleyball with my Brazilian classmates and see your hands after playing.
On this day, we also visited the school and sighed along the way. I know the taste of capitalism..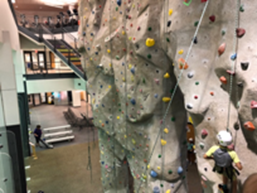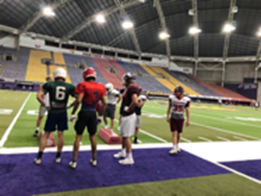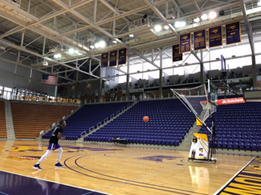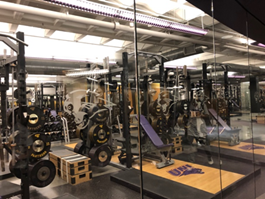 Fridayday July 19, 2019 Sunny
Today we have a course on cultural differences. I like the way the teacher teaches today. He makes the classroom more lively and interesting, especially for students from non-English speaking countries. Culture is not only history, but also many ways, such as religion, sports, music, clothing, nationality, diet, geography and so on. When teachers compare cultures of different countries, I feel very strange, because those are cultures that I have never touched before, but I like them very much.
This is the first time I've heard about low & high context. Americans are typical of low context. People with low context have a sense of time. In business, people with low context value the realization of interests rather than interpersonal relationships. In China, it is a business on the table. No one is happy without alcohol. Chinese people think that drinking is a brother, and it is easy for a brother to do things.
In my opinion, besides classroom teaching, we can get more exposure to the original cultural products, such as newspapers, magazines and movies, which are more suitable for Britain, the United States and even other countries, so as to appreciate the local customs, language behavior of Britain, the United States and other countries, and to appreciate the differences between other cultures and Chinese cultures. With the Internet, we can get more cultural information from it.
Actually, I think the circle we live in is too small. We always read books at home, so it's no different from the general thinking of most Chinese people. It shouldn't be. As a college student, we should be at the forefront of the times, read more books abroad, and see how foreigners evaluate us and our country. Home, how to evaluate our way of doing things. Often, we are confused by the praise of the writers. We don't know that we are in danger. When we discover it, it will be a long time later.
Cultural differences lead to barriers to communication between people from different cultural backgrounds, but because of cultural differences, we have more opportunities to contact them.
Saturday July 20, 2019 Sunny
Today, the teacher told us about the complementarity of various capitalism. The teacher focused on comparing American and Japanese markets. The barriers to entry into the U.S. market are high. There is a competitive relationship between companies and companies. The employment model in the U.S. is flexible. They value time, general skills and mobility. It is worth mentioning that the United States and China focus on general skills, while Japan focuses on professional skills, which is very different and interesting. The Chinese students who graduated from high school are like a circle closed from the ghost gate. I remember that night when they graduated from high school, our classmates gathered for dinner and chat. When we were going to separate, we all shed tears. Perhaps there are many undesirable aspects of this examination-oriented education, but he made us understand more. If you want to fight hard, what is treasure? Get away from it. The barriers to entry into the Japanese market are relatively low. This is a strategic interaction between enterprises and other participants. They cooperate with each other and share resources. Participants in the Japanese market restrict each other, while the American market mainly depends on shareholders'interests.
I don't know much about capitalism, because our country, China, is socialism. Essentially, socialist market economy is not the patent of the Communist Party or Marxist economics. It has a wider and more universal significance to the global human race. Whatever the specific form of socialist market economy, the core and purpose of this market economy should be to ensure that the common social interests of the sustainable and healthy survival and development of all the residents of the society are at the top of the list, to establish a harmonious society and to achieve common prosperity.
No matter what kind of market economy, I believe it has its inevitability. This lesson is still very difficult for me. There is no end to learning.
Tuesday July 23, 2019 Sunny
Over the past few days, we have visited several companies'production lines, volunteer activities, cultural exchanges in class, people from different countries gathered together, tasted different foods, and felt different enthusiasm of different people. Thank Chirs for arranging these business visits to share their differences with us. Because of the fatigue and dietary difficulties caused by long visits, the peer learners complained a little, including myself, when listening to some business introductions, they were also confused, because the other side's output of English I could not input very well. But it will all be a good memory of traveling. I think I will keep all this in my heart and will always remember i
It
.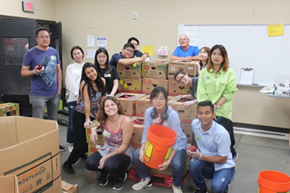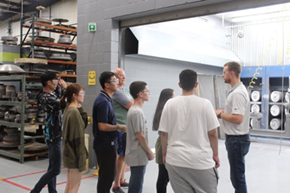 Name

Xinya Zhu

Major

financial management

Self introduction.

I'm Zhu Xinya from Finance Management 1811. I don't have any hobbies. But there is a wish, that is, in the future I want to travel around the world and see exotic customs.
Monday July 15, 2019 Sunny
We arrived at school at about 10 o'clock last night. Thirteen hours of airplanes and five hours of buses destroyed us. After arriving at the school, I found that the dormitory environment here is really good. Four people in a suite, one person in a room, two people in a bathroom. There are washing machines and dryers in the laundry. It's really convenient for me, a lazy person.After looking around the whole dormitory, the door of our dormitory was knocked. Three students from Brazil and one from Nicaragua had already come to wait for us. They greeted us warmly, and our friendship began here.
This morning even gave us a cushion for our fatigue last night, of course, this lazy man chose to take this opportunity to sleep in! In the afternoon, we went shopping. Unexpectedly, I started buying shoes on my first day here. The point is that these shoes are really cheap. Quickly bought a pair of Adidas and Vans. Aha, I'm happy to die.
In the evening, my night owl went to bed early. I think that's mostly because I spent the whole afternoon on the street.
Monday July 15, 2019 Sunny
For a person who likes to sleep late and often misses breakfast, I really get up very early today in order to taste the difference between the breakfast here and that in our country. As a result, I prefer breakfast in China. Breakfast in the United States gives people a feeling that they are not full, but they just don't want to continue eating. But I didn't mean to belittle the United States. Maybe it's just that I'm not used to it yet. Sure enough, I prefer Chinese food.
After breakfast, I went to visit the school with my friends. To be honest, compared with our school, the school here is really big. I was so tired from walking early in the morning. Moreover, I can clearly see that American universities pay more attention not only to learning, but also to sports. When we visited, we could see that many students were still training rugby, basketball and so on during the summer vacation. This is a scene I have never seen in our school.
After the visit, we (and our Brazilian and Nicaraguan partners) took pictures together. It's a very happy morning.
Tuesday July 16, 2019 Sunny
Today, Dr.Russell gave us a lesson about"Global Leadership". Before I do my homework,I really want to express my feelings of having American education.Class in America is really different from it in China.In China,teachers say themselves,while students keep silent,sitting alone.But here, relations between students and teachers is really better than in China.Teacher asks a question,and different students have different opinions.As for the reason why I speak little on this class ,because of my bad throat....OK! I tell the truth.I could not know clearly what teacher said.But if,I am lucky enough to understand what he said,I did not know how to express my ideas.Most important thing is,most of Chinese people are afraid of speaking English .Because they are afraid of being laughed at.We should change this bad habit.
Speaking of my leadership,maybe I have not much to say.In primary and high school,I am not a top student,I am not chosen as a leader.(In China,teachers always choose top students to become leaders.)In the university,I am now a top student.But in my eyes,being a leader is a kind of wasting energy and time.But later,I change my mind.Many courses in the university are finished as a team.And at that time, we need a good leader to help us to be the best in the mission.Chinese students have a character. When teachers say,'Who wants to be a volunteer to...', believe me ,no one will raise hand.So ,when I only in the team that no one wants to become the leader,I will raise my hand and say 'I will'.
If it is a short-term leading,in my opinion,everyone does him or her best is ok.But,if it is a long-term leading,everyone should work out his or her weak points.I am not the person that you should do this and you should do that.I am also not the person to force my staff to listen to me or work as my pattern, mine is the best.I often communicate with my staff and find out the best plan which is fit to everybody.If it is a short-term leading,I will treat my staff to express my appreciation.But,if it is a long-term leading,I will hold some activities during the tasks to fade away their tiredness in order to become more efficient.
Until now,I only hold the post of short-term leading.Hope in the following days ,I will become one of a good long-term leaders.
Thursday July 18, 2019 Sunny
Today, our teacher is still Dr.Russell. Dr.Russell gave us a lesson about "negotiation" .And here now, I must tell the truth that yesterday I totally had no idea what DR said in the class(Please keep it as a secret,I am a little shy about this.),but today I can get his words more that yesterday. Hurray! I am very proud of it!
By the way, in China, People have to learn English because the Education Bureau force us to learn.So,though Chinese people learn English,we rarely speak English.But now, I think I really have some progress.
Back to the point, through my little experience, during the negotiation, usually Chinese people are very serious, no joking, with a little fake smiling. Seemingly, both are very kind and friendly.But in the behind,they try their best to find a way to have a profit in the negotiation,just like the wolfs which wait for a chance to hunt the sheep.Therefore, Chinese people always say that businessmen are pretty crafty, dangerous and hard to deal with.
However ,that is not all about businessmen. During the negotiation,we should be firm and keep our thoughts. We cannot allow others to take the lead.It is the negotiation.But it more likes a game between adults,in my eyes.In this way, businessmen ought to be smarter than normal people,or they will lose their profits(money) at the first.
In the class, our 11 students are divided in to 2 groups----A and B.Dr.Russell gave us a list of rules about the game and what is our goals in the negotiation.I am in the group A. At the very first, I thought it was just a game,we could play it just for fun,by a more friendly and funny way.But when we really started the negotiation , group B was very serious.They all wore poker faces. I was a little shocked.And then, I began serious to.But to be honest,I am not good at negotiating and in the future, I will not become a businessman,because I will lose all the money(Dr.Russell knows that I love money very much!) I really had no idea how to contradict them.It was really hard for me.
Do you want to know the end? Group A...lose the game...But I am not upset about this because we have an interesting process.We enhance our oral English skills.We are closer to each other.I really enjoy this class.
Sunday July 21, 2019 Sunny
Today's schedule is free, free, free! Happy to die, I can sleep in. Here I would like to add that on the evening of July 17, we went to a daily meal for dinner. Something has happened here in Colleges and universities. I must say it.
That night we went to a Japanese restaurant and had dinner.In this restaurant, one person orders from a menu. Everyone ordered the food they wanted in a circle. But beside me, Akemi, a very open and funny Brazilian girl, replaced the circle with a heart shape alone.It happened that I was also a kidding girl, and I was making fun of her. When a particularly handsome waiter came to collect our menu, I said to him, Her heart shapes were deliberately drawn for you. As soon as the words fell, all the people laughed happily. The handsome man said, Thank you. Then he blushed and hurried away.
On the way to dinner, Akemi and I had been self-portraying. The handsome waiter would come and go with us from time to time, and Akemi and I were joking about the waiter. I think it is also because of this opportunity that our relationship will gradually become better. After dinner, the waiter came to pick up our plates and other things. He asked me if the food was good. I smiled and said to him, You look better than the food.That's all. As soon as we said that, everyone began to laugh again. What's more, Check, the driver, said, It's to see to what extent she's talking about the delicacy. OMG, Brother Check's car is on the freeway. I like this kind of car.EI hey hey!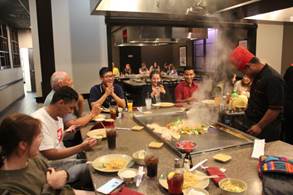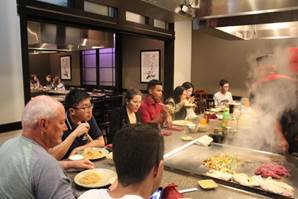 Friday Auguest 2, 2019 Sunny
In the evening we had a farewell party. This is our last day in this school. We're leaving North Iowa for Chicago early tomorrow morning. But I don't have any nostalgia. If I really want to, I will miss Kevin, David, Lulu and Akemi very much. The last night we had dinner together, and at last we could say that it was a meal of edible food.
Remember what I said before, we took group photos together? The school printed it out, and one person sent it out. We signed each other and had our own contact information. Small foreign partners also downloaded Wechat, and we made friends with each other. Although I hate that responsibility, I will never forget the memory of playing with these friends.
Chinese people are super good at lyricism, but I don't want to be here. If the next friend wants to come, let me warn you that this activity is not as fun as you think. But you are welcome to go there, and that's all there is to it.